RG500 Hand Sealing Machine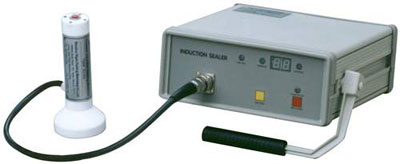 Introduction:
The Model RG500I is a hand-held electromagneticĘCinduction heating apparatus, specializing for the aluminum foil sealing of containers in pharmaceutics, chemical industry, pesticide, foodstuffs, cosmetics and light industry. Containers made of various materials are sealable.
With small size, light weight, easy operation and a sealing head in the dia. of 60mm, it is suitable for low-volume production and operation in labs.
The machine operates on the principle of electromagnetic induction: The aluminum foil on the bottle top is highly heated instantaneously and melted so that the bottle mouth is closely wrapped and sealed.
The sealing is damp-proof, mould-proof, forgery-proof and theft-proof and prolongs goods storage time.
The containers sealable can be made of PE, PP, PS, PET, ABS, glass, porcelain etc. but not metal.
With Japaní»s latest modular power devices adopted, it is more economized in power and 20~30 times quicker in instantaneous heating than conventional vacuum tube-induced heaters, its heating efficiency being up to more than 90%.
Parameter:
| | |
| --- | --- |
| Item | Parameter |
| Power output | 500W |
| Operating frequency | 100KHz í└5% |
| Sealing dia. | ŽÁ10-ŽÁ60mm |
| Sealable container height | Not limited |
| Sealing speed | 1 sec. for a ŽÁ35mm bottle mouth |
| Time adj | Displayed by 2-digit LED nixie tubes, 0.1-2.9 sec |
| Operating form | Auto controlled and at intervals |
| Power | Single-phased, AC220Ví└10% 50Hzú╗110Ví└10% 60Hz |
| Dimensions | Cabinet: 264í┴270í┴98mm úĘLí┴Wí┴Húę |
| Weight | 4kg |