RGPM2000 Ink Jet Printer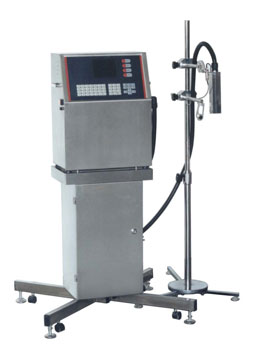 Introduction:
RGPM inner pump small character Ink Jet Printer adopt inner pump closed-circuit ink drive system, resist exterior execrable condition pollution toward ink. The filter of whole ink pathway circle system all use imported products and assure ink clear, solve the ubiquitous question of jamming spray-mouth. In spray-code industry RGPM can spray-print three lines Chinese and English numbers on-line, the speed approach the foreign congener imported products level. The max lattice array 24¡Á4, with the function of editing picture and letters automatically. It can spray-print all kinds of high clear text and drawings.
Its function is continuous/time-lapse spray-print, Real-time clock spray-print.
Big capacity international stair and an bipolar character database, total 7500 Chinese
There are several kinds of standard connection: Synchronization spindle coder, fiber-optic sensor and RS232 communication port.
Parameter:
| | |
| --- | --- |
| Item | Parameter |
| Model | RGPM2000 |
| Working voltage | 220V¡À10%AC£¬50HZ |
| Working environment | 5¡æ-45¡æ |
| Environment temperature | 30-95%RH |
| Power supply requirement | Inner placed |
| Outer and size | 400¡Á270¡Á525mm |
| Spray-head size | 34¡Á34¡Á155mm |
| Lattice Spec. | 5¡Á7£¬7¡Á9£¬16¡Á16£¬16¡Á24£¬24¡Á24 |
| Printing Lines | Arbitrarily choose 1, 2 and 3 lines (Can spray-print three lines Chinese and English numbers on-line.) |
| Letter Form Height | 1.2mm-12mm |
| Printing Speed | 7m/s£¨5¡Á7£© |
| Weight | 18KG |
| Carton volume | Stainless steel (whole sealed) |